Drone Launches Cloud Native CI/CD for Google Cloud
In anticipation of Google Cloud Next kicking off on Monday, Drone is announcing cloud native CI/CD for Google Cloud. Today, Drone users can confidently deploy and automate builds to Google Cloud Storage, Google Container Registry, Google Kubernetes Engine, Google App Engine and Google Deployment Manager. In addition to our deployment plug-ins above, today we're also announcing Drone Autoscale for Google Cloud to help Google Cloud users maximize their server capacity while lowering their monthly server bill. Teams have reported handling 5 times the build volume without increasing monthly server costs.
Drone is the modern CI/CD platform providing the most plug-ins available to Google Cloud users, helping developers ship their features and bug fixes in minutes into production on Google Cloud. Implementing Drone into a deployment workflow allows enterprises to have significant advantage bringing applications to market quickly, as well as reducing costs along the way.
Container-native and works with any language that runs inside a container, Drone's CI/CD platform is available to the open source community, as well available via an Enterprise on-prem edition.
Google Kubernetes Engine and Google App Engine Drone Plug-Ins Now Stable
The community has been a driver in making many of the Drone plug-ins available. The NY Times created the Drone Kubernetes Engine and Google App Engine plug-in. We are thankful for their community contribution and today are excited to announce that the plug-ins are now stable. The NY Times blogged about this here.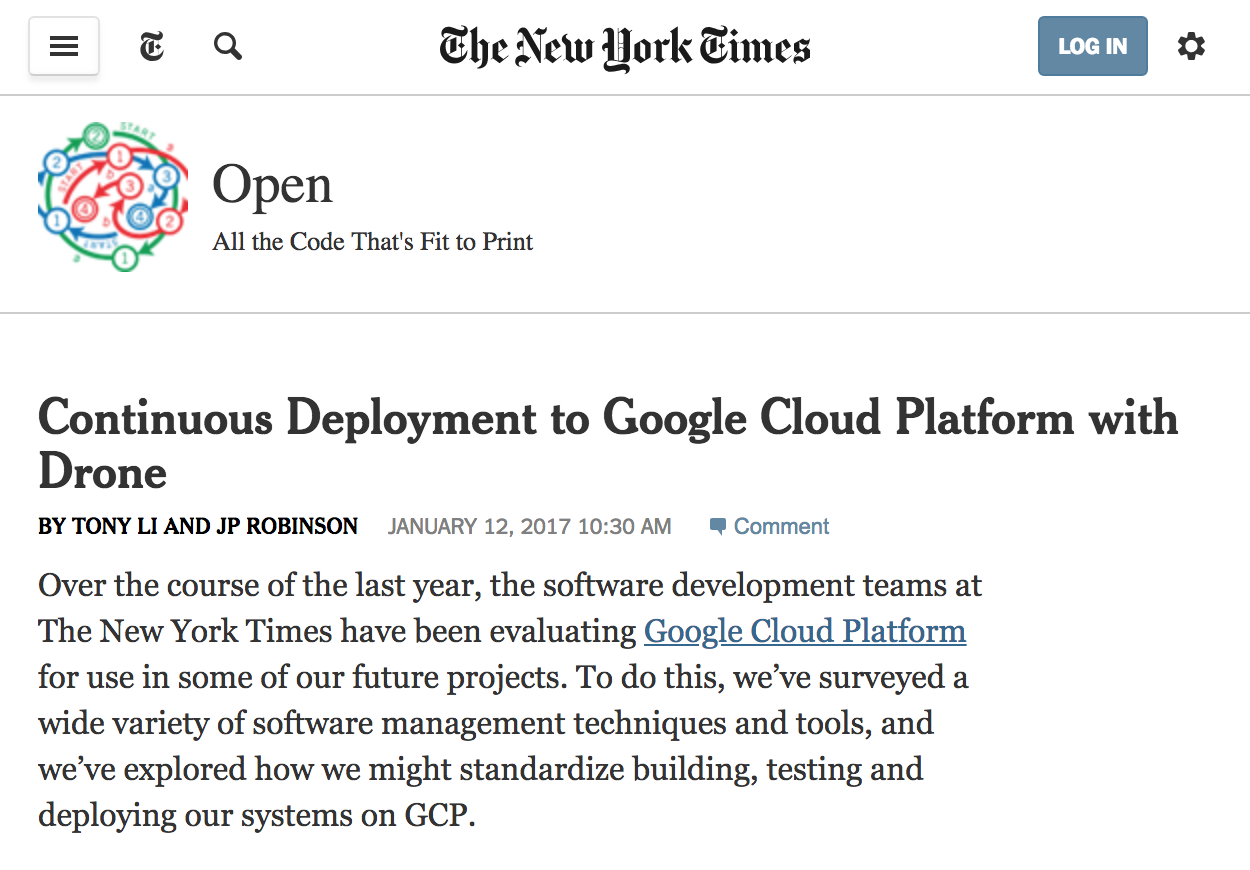 Attending Google Cloud Next? Be sure to check out The NY Times session, The New York Times Runs on GCP: A Transformation that Enabled Developer Autonomy and Powered Operational Maturity, on Wednesday at 1:55 pm.
Get Started with Drone on Google Cloud
Installing Drone on Google Cloud in 2 Minutes
Drone is modern CI/CD. Container-native and available via open source and an enterprise on-prem edition. Try it today.